Endowed Chair Named in Honor of Visionary Leader David Hale
Rady Children's Institute for Genomic Medicine® (RCIGM) President & CEO Stephen Kingsmore, MD, DSc, was formally inducted today as the David F. Hale Chair in Pediatric Genomic Medicine. Serving as an endowed chair is one of the highest honors in academic medicine. 
The Chair's namesake, David F. Hale, has been an integral part of the accomplishments of both RCIGM and Rady Children's Hospital-San Diego for decades. He was instrumental in many organizational milestones at Rady Children's including helping to formalize a partnership with UC San Diego in 2001; helping create the Rady Children's Specialists Medical Practice Foundation; and playing a key role in the construction of the Hospital's Acute Care Pavilion, which opened in 2010. At RCIGM, David led the launch of the Institute and became the founding chair of the board of directors.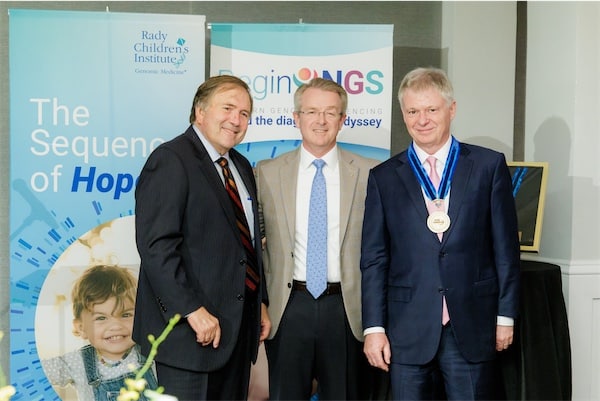 "Throughout the years, David Hale has been a positive force for change, offering friendship and wisdom and guiding remarkable achievements at both Rady Children's and RCIGM," said Patrick Frias, MD, President and CEO of Rady Children's. "With all of these accomplishments, he has impacted the lives of countless children and families in our community and beyond." 
Following an international, competitive search led by David Hale, Stephen Kingsmore was appointed the first CEO of Rady Children's Institute for Genomic Medicine in 2015. In just seven years since its founding, he has guided the Institute from a mere idea to an established national and international leader in pediatric genomics. Stephen has set the world record for the fastest genetic diagnosis of a child through rapid whole genome sequencing multiple times — most recently marking just 13.5 hours from sample collection to diagnosis; he has proven through Project Baby Bear that rapid whole genome sequencing yields life-changing benefits; and, under his leadership, the Institute has begun providing clinical genomic diagnostic services to a growing network of children's hospitals—currently more than 80 institutions.  
"Because this chair provides funding in perpetuity for leadership of RCIGM, it will not only enhance the reach of Stephen's innovative ideas today, but it will also ensure future excellence in leadership and in scientific advances in pediatric genomic medicine," said Stephen Jennings, Senior Vice President and Chief External Affairs Officer for Rady Children's Hospital and Executive Director for Rady Children's Hospital Foundation. "It's incredible to imagine the reach that the chair will have and the lives it will impact." 
David Hale presented Dr. Kingsmore with an honorary medallion during a ceremony on Nov. 1, 2022, formally investing him as the David F. Hale Chair in Pediatric Genomic Medicine. 
"The medallion will serve as a visible reminder of Dr. Kingsmore's visionary leadership and his steadfast commitment to saving lives through rapid precision medicine," said David Hale during the ceremony. "It is also a symbol of the gratitude we have for Stephen's leadership in building the Institute and leading the establishment of this important endowment." 
"I am truly humbled and honored to be the inaugural David Hale Chair in Genomics," said Dr. Kingsmore. "We have come so far in such a short time – and would never have gotten this far without David Hale's leadership. Thank you to David for his incredible support and for the honor of holding an endowed chair in his name."