Rady Children's Institute for Genomic Medicine (RCIGM) is now licensed by New York State to perform clinical molecular testing making the Institute one of the few laboratories nationwide approved to perform whole exome and whole genome sequencing (WGS) on samples sent from all 50 states and the District of Columbia.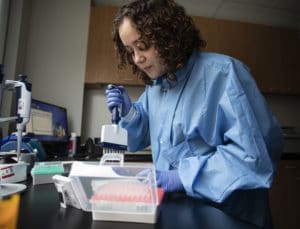 "Achieving this milestone for our complex testing is confirmation that we are adhering to the strictest quality standards," said Shimul Chowdhury, PhD, FACMG, CGMB, Senior Director-Clinical Operations for the Institute. "Making timely diagnoses and improving patient outcomes are always our primary goals, but ensuring we achieve and maintain high accuracy and safety standards are equally important."
Over the past five years, scientists at the Rady Children's have developed the fastest clinical genomic sequencing platform available. RCIGM's rapid WGS method is optimized for speed and accuracy to enable molecular diagnoses and inform precision care for infants and children with rare genetic conditions within what is often a narrow therapeutic window.
RCIGM's Clinical Genome Center offers the quickest turnaround of genomic test results delivering a preliminary diagnosis in less than three days for medically urgent cases. A growing network of more than 60 hospitals across the country are sending samples to Rady Children's Institute for sequencing and analysis in order to provide this life-changing technology to some of their most vulnerable patients.
The Institute began sequencing children's genomes for clinical studies in July 2016. More than one-third of patients sequenced have received a genomic diagnosis with more than 75 percent of those children benefitting from a change in medical management.
In 2017, following stringent review and inspections, the Institute's Clinical Genome Center was awarded accreditation by the College of American Pathologists (CAP) and certification via the Clinical Laboratory Improvement Amendments (CLIA) by the Centers for Medicare and Medicaid Services.
"New York licensing is an important step in our mission to expand access to genome-informed diagnosis and treatment for children suffering from diseases of unknown origin," said Stephen Kingsmore, MD, DSc, President & CEO of RCIGM. "Our goal is to make genomic sequencing the standard of care and improve the lives of children and families faced with rare disease."
About Rady Children's Institute for Genomic Medicine:
The non-profit Institute is mission-driven to advance disease-specific healthcare for infants and children through genomic and systems medicine research. Discoveries at the Institute are enabling rapid diagnosis and targeted treatment of critically ill newborns and pediatric patients at Rady Children's Hospital-San Diego and a growing network of more than 60 children's hospitals nationwide. The vision is to expand delivery of this life-saving technology and extend the practice of Rapid Precision Medicine™ at children's hospitals across the nation and the world. RCIGM is a subsidiary of Rady Children's Hospital and Health Center. Learn more at www.RadyGenomics.org. Follow us on Twitter and LinkedIn.